When you read out loud, it requires you to slow down and focus on every single word that you're saying, so that it can make its way from your brain to your mouth. When we proofread inwardly, we tend to rush through things and don't actually read the text properly.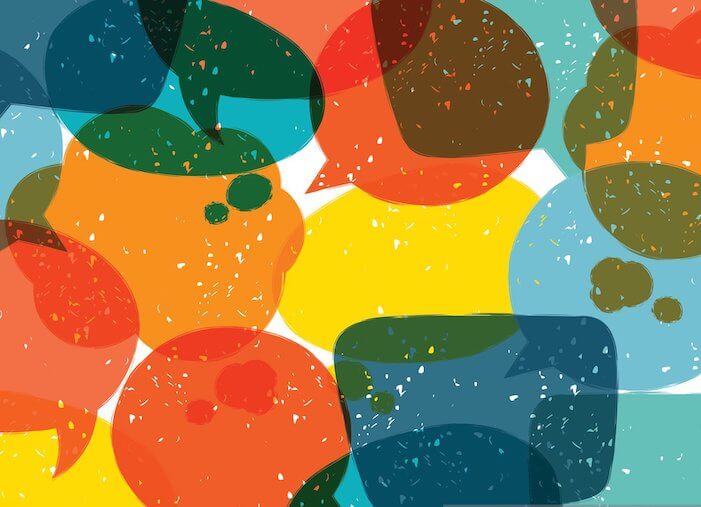 15 writing tips to help you write better
1. Think before you start writing
One of the best writing tips for beginners is organizing your thoughts in a logical, explainable manner before putting pen on paper. The biggest hurdle is often not knowing how to begin or what to say—everything is a jumble of ideas that probably look like a bunch of paint thrown against a wall (and not in an artistic way). It can be very frustrating.
Note: THIS IS NORMAL. Don't get discouraged. There's a reason the phrase "writer's block" exists. Let yourself think about it for a day or two, especially if you're doing creative writing. You'll be surprised at how that paint blob slowly transforms into a recognizable shape.
2. Embrace the writing "brain dump"
Avoid correcting misspellings, typos, sentence structure, or grammar—just type, type, type until your brain excavates all musings. You can use this creative writing skill for all kinds of work, from personal blogging and copywriting to essays and work emails.
3. Make an outline
Now that you have all your wonderful, messy thoughts on paper, it's time to get more granular and organized. Some tips on how to edit your brain dump: do a first pass and delete the parts that are definite "nos." Then go through again and highlight the ideas you like best. Revisit the "maybes" later.
Now, take your favorites and as briefly or as detailed as you like, make an outline that conveys your message. Start top-level with your biggest, overarching ideas, and then get into the details. Fill in missing parts, elaborate on other parts—rinse and repeat until satisfied.
4. Know your audience
This is a straightforward writing tip for beginners, but a lot of people forget it. For example, your voice and elements of style for personal blogging will be much more informal than business writing (i.e writing a proposal for a new client). Being mindful of your audience is key to improving writing skills and creating more impactful work.
5. Keep a journal
Being a better writer means writing more! Keeping a journal should be a very low-pressure thing. It can be as simple as writing a list of things you did that day, playing around with word choice for a LinkedIn headline, or recounting a conversation you had with a friend.
If you don't want to keep a physical journal, you can start a note on your phone or a document on your computer. The point is—there are no journaling rules. Just start writing whenever you feel like it, because the more you do it, the more naturally it will come to you.
6. Pen a letter instead of texting
Great writers write letters for fun and for practice. Pen a letter (or an email) to a friend who lives in another city. A hundred years ago, people wrote long letters detailing everything from the mundane to faraway travel. Why not now? It's the perfect way to get your creative writing juices flowing, rather than relying on boring texts.
Remember to check spelling, comma use, sentence structure, typos, etc. Your friends deserve good writing too. Spell-check is a nice starting point, but writing well happens when you use a reputable grammar or punctuation checker tool like Writer to support you.
7. Read more to do better writing
One of the best, passive ways of becoming a better writer is to read a book (Stephen King's work makes for great binge reading). Not into books? Long-form business writing, graphic novels, or short stories do the trick as well.
Reading every day puts you in the fast lane for improving your writing skills. As Roz Morris, the author of the bestseller book, Nail Your Novel, puts it: "Reading exposes us to writing that's better than our own and helps us to improve. Reading—the good and the bad—inspires you."
By reading more, your brain will naturally pick up on things like good word choice, different writing styles, and good sentence structures. It also improves your reading comprehension and concentration levels (which comes in handy for the procrastinators among us, including me).
8. Keep your writing simple
9. Tone up your tone in writing
Just like we said in "Know Your Audience," business writing like an email might sound conservative, while a personal social media post can be friendly and casual. Your tone can and should change depending on your needs. An extreme example: don't start a cover letter with: "Hey, dude! Wassup?"
10. Prioritize your key points
If you want to learn how to write good, sentence structure and word placement is everything. If you have a question to ask, don't put it in the middle of a paragraph, because it could get skipped over. Similarly, if you have an important piece of information to share, make it into its own paragraph or strategically place it in the introduction or conclusion—the sections readers tend to pay attention to the most.
Dissect Writing That You Admire
Find a handful of recent blog posts you really like, then print them out. Next, just like your high school English teacher did, take a red pen and highlight things you liked: certain sentences, turns of phrase, even entire paragraphs. Examine why you like these elements, and see if there are any common threads in your favored reading material. See how writers take one subject and transition into another. Apply these techniques to your own work.
Immediately, you're hooked by Morris' opening. You can't not read to see what happens next. The pacing is excellent, it grabs your attention, and best of all, it keeps you reading. This piece was first published back in June, and I still remember it. Read the full post here, and see how Morris masterfully tells the story of a band named Death and how this relates to writing content.
Tools
Merriam Webster: Visual Dictionary
The Visual Dictionary Online is an interactive dictionary with an innovative approach. From the image to the word and its definition, the Visual Dictionary Online is an all-in-one reference. Search the themes to quickly locate words, or find the meaning of a word by viewing the image it represents. What's more, the Visual Dictionary Online helps you learn English in a visual and accessible way.
OneLook Reverse Dictionary
OneLook's reverse dictionary lets you describe a concept and get back a list of words and phrases related to that concept. Your description can be a few words, a sentence, a question, or even just a single word.
GNU Aspell
GNU Aspell is a Free and Open Source spell checker designed to eventually replace Ispell. It can either be used as a library or as an independent spell checker. Its main feature is that it does a superior job of suggesting possible replacements for a misspelled word than just about any other spell checker out there for the English language.
WordWeb
A one-click English thesaurus and dictionary for Windows that can look up words in almost any program. It works off-line, but can also look up words in web references such as the Wikipedia encyclopedia. Features of the free version include definitions and synonyms, proper nouns, 150 000 root words and 120 000 synonym sets.
Wordcounter
Wordcounter ranks the most frequently used words in any given body of text. Use this to see what words you overuse or maybe just to find some keywords from a document. Text Statistics Generator is an alternative tool: it gives you a quick analysis of number of word occurrences.
Advanced Text Analyzer (requires registration) This free tool analyzes texts, calculating the number of words, lexical density, words per sentence, character per word and the readability of the text as well as word analysis, phrase analysis and graded analysis. Useful!
Graviax Grammar Checker
Grammar rules (XML files containing regular expressions) and grammar checker. Currently only for the English language, although it could be extended. Unit tests are built into the rules. Might form the basis of a grammar checker for OpenOffice.
txt2tags
Txt2tags is a document generator. It reads a text file with minimal markup as bold and //italic// and converts it to the formats HTML, LaTeX, MediaWiki, Google Code Wiki, DokuWiki, Plain text and more.
Markdown
Markdown is a text-to-HTML conversion tool for web writers. Markdown allows you to write using an easy-to-read, easy-to-write plain text format, then convert it to structurally valid XHTML (or HTML). Requires Perl 5.6.0 or later.
Sources:
https://writer.com/blog/how-to-write-better/
https://www.wordstream.com/blog/ws/2014/08/07/improve-writing-skills
https://www.smashingmagazine.com/2009/06/50-free-resources-that-will-improve-your-writing-skills/